Hurricane Creek Campground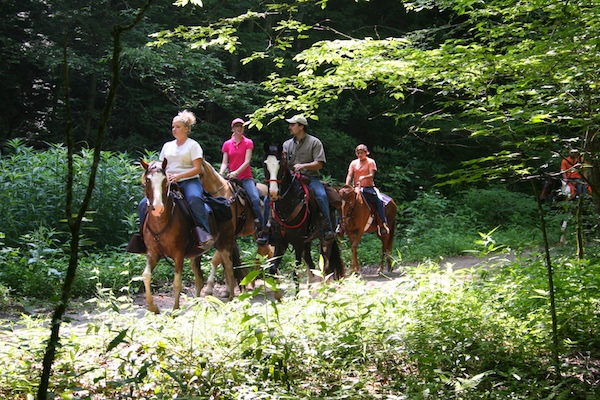 Camp at Hurricane Creek Campground if you're looking to get away from crowded areas and the hustle and bustle of everyday life. You'll need to plan on packing anything and everything from firewood and drinking water to hiking boots, fishing poles (NC license is required) and Hurricane Creek Camp is popular with horseback riders due to some of the best trail riding in the area and multiple trails in which to choose. Campers here will also find that they're in ultra- close proximity to some of the area's best waterfalls, hiking trails and wild trout fishing the Nantahala National Forest has to offer, with the privacy that would be hard-pressed to duplicate. But you must keep in mind, being prepared for anything and everything is paramount when camping in a primitive area like this.
The drive to Franklin isn't bad, but it's still a good 30 minutes away via curvy roadways. Hurricane Creek Campground is sometimes an alternative when the more developed and popular "Standing Indian Campground" is to capacity, just a couple of miles away. We recommend this location to any horseback riders with their families and friends. This is perfect area for a group to get away or large family to spend the week during the summer or autumn months. We strongly suggest that you take advantage of the great hiking trails here. A few of our favorites are Pickens Nose Trail and Albert Mountain Trail.
Directions:
From Franklin take 64 west towards Murphy, NC for about 12 miles, just before the 12th mile you should see a Brown sign for "Wallace Gap", "Appalachian Trail" & "Standing Indian Campground" with arrows pointing you towards West Old Murphy Road(SR 1448) on your left. Stay on W.Old Murphy Rd. for 2 miles. You'll pass a Nantahala National Forest Sign for the campground saying "500 Ft Ahead", and at 2 miles you'll be at FR (Forest Road) #67 to your Right (indicated by a small, skinny Brown sign at the beginning of the road). Continue 1.8 miles on FR 67 until you come to a fork in the road. To your Right will be the entrance to "Standing Indian Campground", avoid the Right and continue on FR 67 to the left. In about 0.3 miles the road will turn to gravel at the Backcounrty Info Kiosk. Continue for another 2.2 miles along the Nantahala River Headwaters until you cross "Hurricance Creek" (passage is easy even for a low car). Once across, you're at the campground, make sure you pack well, bring some warm cloths, plenty of food and water.
Chunky Gal Stables
Chunky Gal Stables is located within driving distance of Franklin and has something for everyone to enjoy. Chunky Gal Stables offer trail riding, lessons, training, and boarding. They are open 7 days a week from 8:00am - 5:00pm, if you have any questions please feel free to give them a call at 828-389-4175 and they will be more than happy to help you in any way they can.
They offer everything for the horse enthusiast as well as the enthusiast at heart. They have amazing National Forests surrounding them which gives them many different trail options for riding, so no matter how many times you come to ride with them, you can ride in different areas each time you visit. They keep the group sizes small and intimate to provide their riders with a more personal experience.
And no, they aren't in the business of weight loss. The name Chunky Gal comes from the mountain range where the stables sit, right at the base of Chunky Gal Mountain. The mountains were named after an old Cherokee Indian story of a chief's daughter that did not want to be married off to who her father had selected and ran away into the mountains. Chunky Gal Mountain was the last place she was seen.